---
Value:
This integration sends Leads to Vyral in real-time. The integration executes when the CRM Lead is updated or tagged - so that all of your new Leads will receive your Vyral marketing emails.
---
Setup Instructions:
Login to Real Synch and click + Add Integration: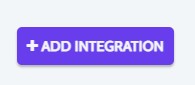 Select a Source CRM and Vyral as your Target:
Click Instructions on your Source CRM and follow along to connect to your CRM.
Next, click Instructions on Vyral as your Target and follow along:
You will need to contact your Vyral Client Manager to retrieve your Private Key, Public Key, and Account ID. Click Verify and Close:
Next, click Source Options and select one (1) or more activities and filters which will trigger the integration to synch a lead to Vyral. The following are the typical methods used for sending leads to Vyral in real-time:
1. Contact Created in the CRM.
2. Contact Updated or Lead Status Updated in the CRM.
3. Lead Tagged (add a tag in the Other Options section). When this tag is added in the CRM, then the lead will be integrated into Vyral.
4. Any of the above, but only when performed by a given Agent or list of Agents.
Finally, click Next and Activate:
---
---